It's bacccccccckkkkk. Great British Sewing Bee is my favourite programme and I've been waiting a year for the start of season 3.
I've missed Claudia. I've missed May & Patrick. I've missed the sewing room. Ahhh I'm so excited.
So, last year I told myself I'd blog about each episode, this year I'm making good on that! So every week I'll be blogging about each episode as it is on!
If you've never seen Great British Sewing Bee (GBSB) then it's basically The Great British Bake off but sewing. The contestant "battle it out" in the sewing room each week completing three tasks: the pattern challenge (working from a set pattern), the alteration challenge (transforming an item of clothing) and the made to measure challenge (creating an item to perfectly fit the real life model)
So. the fabric of the week... Cotton
Pattern Challenge: Women's Cotton Trousers
You could definitely tell I'm a sewing bee geek, as the contestants picked their fabrics I gave a sharp intake of breath if they picked any complicated, patterned fabric that would be difficult to match or, from Andy "Blimey O'Riley that fabric will be hard"
and the introduction to Neela's amazing pin cushion wristlet and Annie's declaration "I hate baking, I love sewing... here's my piggy pin cushion" (gahhh I adore the Scottish accent)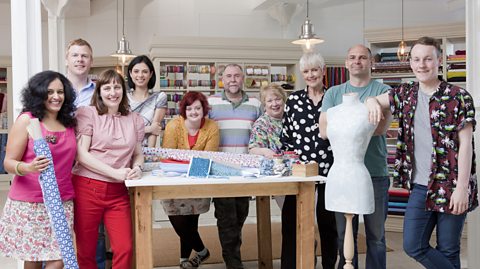 Source: BBC
As the contestants work we were introduced to each of them with little clips of their life. They all seemed to have the nicest houses. This is also the point that twitter started suggesting contestant to follow! But ahhh I fell in love with alllllll the contestants!! One of my favourite things about GBSB is how lovely everyone is, and as the weeks go on they become so close knit. You can get to know all the contestants here.
and then on to the judging...the other thing I LOVEEEE about GBSB is the judges: May and Patrick are the sweetest judges ever, there is just no nastiness it's all so polite!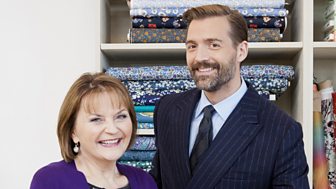 Source: BBC
So, which were my favourite trousers? I have to say, Neil's pink flowery ones. Not my style, but beautifully made! Also, Lorna.. who I didn't remember from the introduction, what amazing Hawaiian
fabric! (and the judges agreed with me, naturally!!) Honestly, until I watch GBSB I forget about my love of fabric!
Alteration Challenge: Denim Shirt
The alteration challenge is my favourite, the imagination is amazing! (I totally realise I am gushing about a BBC programme throughout this entire post!)
The weirdest thing about this challenge was everyone seemed to be making a denim skirt to the point I thought that was the challenge!! But thankfully, there was a little bit more to the transformations and quite a selection of outfits by the end.
My favourites? Deborah's skirt, Amanda's little girls dress and Ryan's halter neck.
I did think Alex's alteration was the best in terms of transformation.. what a skirt!!
Made to measure challenge: Summer dress
Two rules:
1. Has to be made out of a patterned fabric
2. Has to fit model perfectly.
Firstly, the models are so patient, where do they come from? I want to feature on one show, maybe season 4?
I got a bit distracted at this point in the show because I was buying my wedding dress ahhhhh *sorry, off topic*
But, my favourites? Lorna's.. seriously, I think she might win the entire series! and also, Alex's Cherry print (despite the technical bits the judges pointed out) and Debroah's (the poppy fabric was stunningggg)
and so the end...
I won't say here who goes butttt their leaving line was "nevermind, we'll still name a calf after you..." brilliant!!
Did you watch GBSB? You can join in the conversation each week 8pm-9pm Thursday with #GBSB and also follow my personal twitter for my sewing bee tweets!